Welcome to the Rocky Mountain Center for Spiritual Caregivers
"As I teach, I project the condition of my soul onto my students, my subject, and our way of being together. The entanglements I experience in the classroom are often no more or less than the convolutions of my inner life. Viewed from this angle, teaching holds a mirror to the soul. . . In fact, knowing my students and my subjects depends heavily on self knowledge. When I do not know myself, I cannot know who my students are. I will see them through a glass darkly, in the shadows of my unexamined life - - and when I cannot see them clearly, I cannot teach them well." Parker Palmer

Might the same be said about those of us offering spiritual care?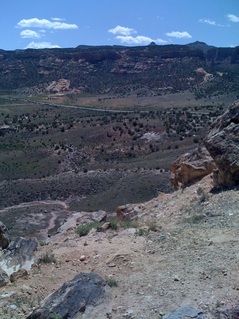 The Rocky Mountain Center for Spiritual Caregivers is excited to bring community based Clinical Pastoral Education (CPE) to the Western Slope of Colorado and Utah. We are also excited to be working closely with the Pacific Institute. (
www.pacinstitute.org
)
We are an accredited training center through the
Center for Spiritual Care and Pastoral Formation (CSCPF).
We are now taking applications for our Fall CPE Units which will begin in September, 2019!

New in 2019
On-Line CPE!!!

​The Rocky Mountain Center & the Pacific Institute are working together to make CPE more accessible.
​
***We have two on-line units beginning in September.
Please check out our calendar page for details
---
True vocation is "the place where your deep gladness and the world's deep hunger meet."
Frederick Buechner



What is Clinical Pastoral Education?

The CPE model is based on the productive combination of

action

(ministry, chaplaincy, spiritual care giving)

reflection

(verbatim, case study, critical incident report) and academic

theory

(didactics.) These three dynamics of ministry are explored within the context of small group process. CPE is based on

the

action/reflection model of adult learning. A CPE intern is invited to go out into the

world and provide spiritual care. They then come back to the group to process their experience in a self reflective manner.

How Does CPE Supervision Work?

"CPE supervision requires the organic integration of education theory, personality models, family systems theory and group dynamics. As a CPE supervisor my goal is to be familiar enough with all of these concepts and dynamics that I am able to recognize, name, navigate, and finally apply these concepts within the group process. When this is done, true growth and learning will take place for the interns, the supervisor and the group as a whole.

One of the most important responsibilities of a supervisor is to create a container within which all of these dynamics can play out in a safe and meaningful way. For, without a feeling of trust and safety within the group, learning will be difficult."
Wendy Jones


A CPE Unit includes 400 clinical hours and offers . . .

One-on-one sessions for clinical supervision




Clinical placement in community-based care organizations




Small group seminars




Continuous personal, theological and ethical reflection




Verbatims and case conferences




Videotaped role-play feedback




Didactics in multi-disciplines




Personalized learning contracts including specialized reading and personal evaluations




Why take CPE?

"CPE provides potential chaplains the opportunity to explore their own history so they might know when their agenda or "baggage" is interfering with spiritual care. The Dean of Student Affairs at Princeton Seminary, Dr. Crawford, once told me, 'You go to seminary to ask and answer your own questions; so that you don't ask your parishioners to answer your questions.'


CPE is the same type of process. CPE allows interns to explore the different pieces of their past and present, to ask questions, and explore their own answers with fellow interns rather than in the clinical setting with a patient/client. Are all the answers found? No. However, CPE provides an avenue for us to choose freely what we will do with our growing information in dialogue with our past."
Scott Hogue



WHO CAN BENEFIT FROM TAKING CPE?

Clergy
Seminarians
Chaplains
Counselors & Therapists
Nursing, Social Work and other Health Care Professionals
Parish Nurses
Spiritual Directors
Pastoral Counselors
First Responders
Teachers
Second Career Seekers
Active Duty Military & Veterans


In addition to Clinical Pastoral Education we offer Spiritual Direction, Pastoral Counseling and Community Workshops.



WHO CAN YOU HELP WITH CPE TRAINING?

Short-term patients in the hospital
Hospice and mental health center residents
Sufferers from HIV/AIDS and other diseases
Abused Children & Spouses
The incarcerated in prisons
The homeless and those housed in shelters
Participants in eldercare settings
The poor and marginalized in your world
Substance abusers in treatment
Wounded Veterans
Active military
Members of congregations
Families in crisis
Victims of natural disasters
Persons undergoing workplace stress
Animal advocacy chaplaincy training




---